Rogue River Blue Will Make Its Seasonal Debut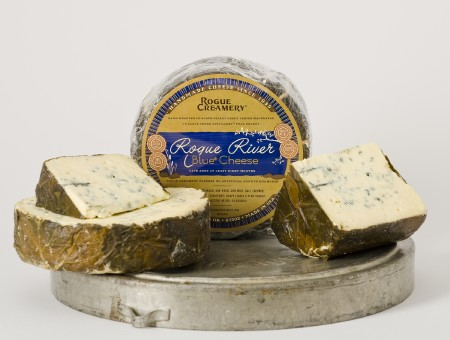 Organic Rogue River Blue—LIMITED OFFERING!
Fall is on its way back, and with it comes the return of Rogue Creamery's Organic Rogue River Blue.  Released every year for the Autumnal Equinox, it has been one of the cheese world's favorite traditions for 16 years running.  In that time, it has developed a base of passionately devoted fans and won numerous awards, including 2 "Best in Show" accolades from the American Cheese Society.
What makes this cheese so sought after?  Everyone has a different answer, but there's no shortage of possibilities: Rogue's high quality organic Swiss and Holstein milk, their emphasis on sustainable production, or maybe the pear brandy-soaked grape leaves (all local sourced by Rogue, of course) that wrap the cheese and give it a heady sweetness to counterpoint the cheese's salty, pungent flavors.
This year, though, there's one more reason—our supplies are far more limited than usual and they'll be gone before you know it.  So talk to a salesperson and place your order, or you might have to wait until next year for this one-of-a-kind fall tradition.